When searching for the right mobility scooter it may get overwhelming with the amount of options available today. While there are new companies popping up constantly, there are a few tried and true companies that you can count on to offer some of the best options in the industry. At Suncoast Mobility while we try to offer new items in our catalog, it is often the companies and products we have worked with and sold for many years that continue to be our best sellers. The good thing about that is after many years of working with these products we know them well and are able to match them with customers who they will suit best. In this article we will discuss which mobility scooters are our years best sellers, their functionalities and specifications. And of course, if you need more information on which mobility device would be best for your specific needs, contact us to speak to a mobility professional today.

Enhance Mobility Transformer

The Enhance Mobility Transformer is one of the best selling folding mobility scooters on the market. It easily folds with a push of a button on the handheld key fob. Even with its easy maneuverability and compact design, it offers a 300 pound weight capacity. On a single charge it can travel up to 13.5 miles. This unit is highly recommended for travel or those who are frequently on the go. The ease of folding and compact folded design allows it to easily be stowed or stored in the trunks of most vehicles. Enhance Mobility devices also come with a one-year in-home service contract making them a purchase you can be confident about.


EV Rider AF Transport Plus & AF 4W

The EV Rider Transport series has always been a best selling line of mobility scooters. Among the transport line, the AF Plus and AF 4W are by far the most popular. They are the top of the line folding devices in the market today. They are ideal for travel and those who need a lightweight mobility scooter.

The Transport AF Plus is another great folding mobility scooter option that folds easily with a push of a button. This unit is ideal for travelers as it has a compact design as well as being one of the lightest scooters on the market. Although the unit weighs only 49 lbs, it still boasts a 250 pound weight capacity.

The Transport AF 4W is the newest version of the Transport AF Plus. It has all the same functionality with a couple minor differences. The 4W has the front wheels separated in front to create a wider base of support to improve the users stability. For those who struggle with balance this unit is the best choice of all the Transport models. The only changes the new design creates are a slightly wider turning radius and a 2 pound increase.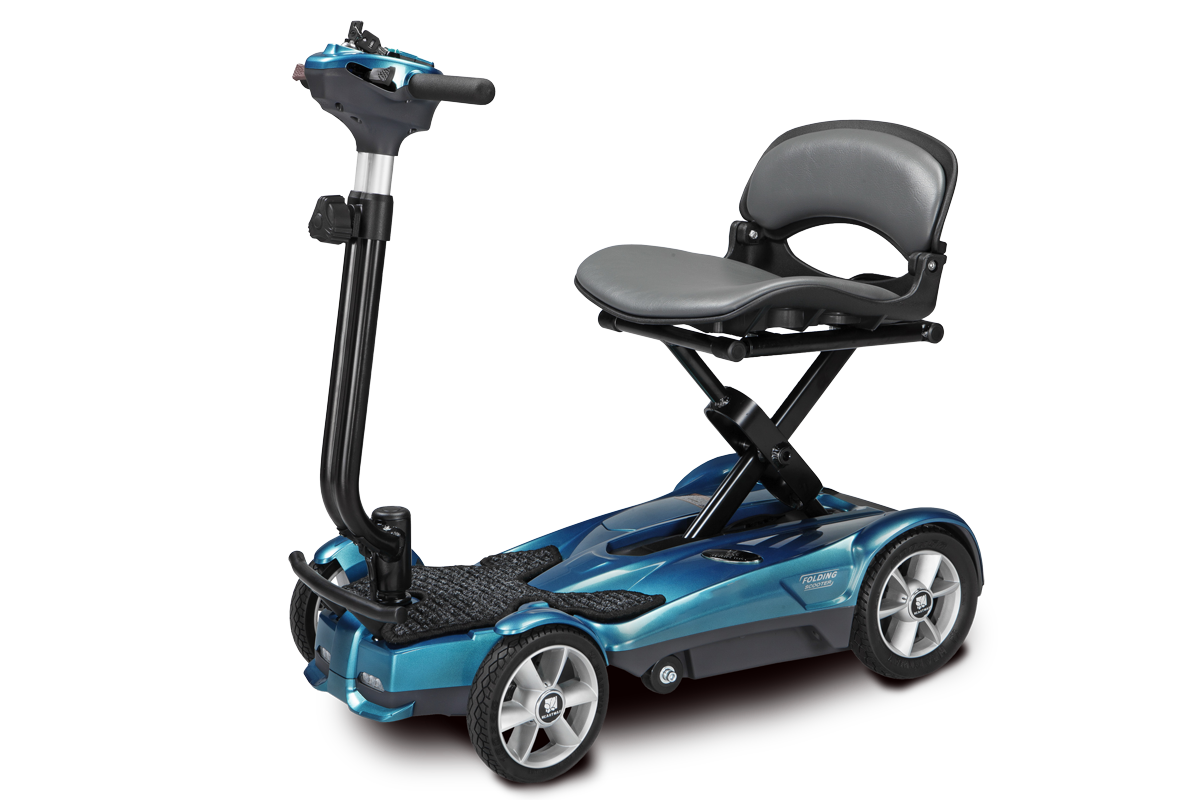 Golden Technologies Buzzaround Carry On

The Carry On mobility scooter is one of the newest on the market. This unit is designed specifically for travel as the name implies. The Carry On mobility scooter folds to an astonishing 12" tall. This means it will fit under your bed at home and even underneath beds on a cruise ship. The Golden Technologies Buzzaround Carry On can even be towed like luggage by placing the scooter in free-wheel mode and lifting up on the front handle. Other features are an infinite adjustable tiller, full front, and rear lighting package, a lithium-ion battery pack (travel battery pack sold separately), and 300 lb. weight capacity. The heaviest piece is 47.5 lbs. (without seat and batteries). Golden Technologies offers a comprehensive factory warranty that rivals any other competitor in the industry. The Golden Technologies Carry On folding travel mobility scooter comes with a one-year in-home service contract at no cost to you. This means if you have any issues for the first year we will dispatch a licensed technician to your home to diagnose and repair the unit for free for one year.

Teqno

The EV Rider TEQNO automatic folding mobility scooter is set apart because of one unique feature, laser beams. The high power lights help users maneuver in dark or tight spaces with increased safety. This unit, like many of the other popular folding scooters outlined above, folds easily with a simple push of a button. The Teqno has 4 wheels with a nice wide base of support to allow for stability and the ability to tackle rougher terrain.
The Teqno features a smart key fob, so you do not need the key to start the device. You simply need the key fob in close proximity to start your scooter. The Teqno is perfect for travel as it is airline and cruise ship approved. We suggest contacting the air or cruise line ahead of time to alert them and to prevent any possible delays. The EV Rider TEQNO automatic folding travel scooter is equipped with an 11.5Ah lithium battery and weighs just 65 lbs. making it the perfect choice for anyone living an active lifestyle.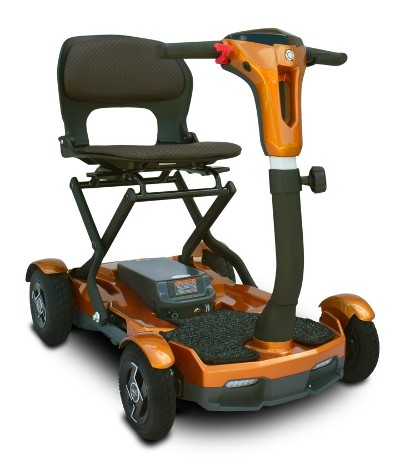 Looking for more information?

Contact us today to talk about your specific needs and lifestyle, and one of our knowledgable experts will help you make the right choice in gaining back your freedom.